Welcome to the Building LBSC's Speedy Wiki
Edit
This Wiki is intended to assist Model Engineers who are building the 5" Gauge live steam model locomotive 'SPEEDY', designed by LBSC. Although many of these locomotives have been built, the plans contain significant errors and omissions, as well as some design issues that might be improved. There are also some significant detail differences between the plans and the full size locomotive. The aim of this page is to highlight where the problem areas are and to propose solutions to these. Builders are encouraged to constructively contribute to this, it's not a complaints page! Feel free to add your own pages to show what you've done, or add to existing ones. Maybe you've added a nice scale detail that's not present on the plans? Do share these things with other builders.
Aims and assumptions
Edit
This wiki assumes that the builder is familiar with the fundamental Engineering processes and procedures. It's not a step by step guide to building this locomotive, although some suggestions and methods are outlined.
What it aims to do, is to inform the builder of the choices he will face during the construction.
The plans as purchased do not provide a definitive set of toleranced Engineering Drawings that can be followed to the letter. Instead, these need to be treated more as a guide, with some important details that are not well defined. The aim is to make clear where accuracy is required and where it's less important.
How far any builder deviates from the plans in search of better appearance or performance is entirely up to him. Many of these locomotives have been successfully built to the original plans.
One possible deviation is to use mainly Metric threads throughout, and a section on the issues and suitable replacements is included.
http://en.wikipedia.org/wiki/GWR_1500_Class
http://www.nrm.org.uk/  National Railway Museum Swindon
The Didcot Railway Centre have a small collection of original 'Works Drawings' which are available in scanned form for a modest fee.
http://modeleng.proboards.com/thread/8680/help-speedy-valve-gear-issues - This thread documents a build of 1501, highlighting the differences between the LBSC drawings and 1501 which is in preservation at the Severn Valley Railway.
Boiler feed pumps and injectors
Latest activity
Edit
Photos and videos are a great way to add visuals to your wiki. Find videos about your topic by exploring Wikia's Video Library.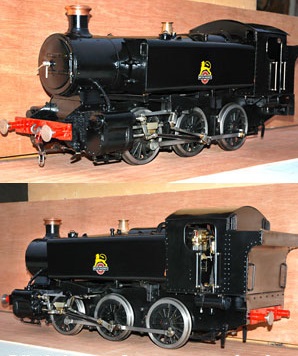 Community content is available under
CC-BY-SA
unless otherwise noted.